FAN'S CONCERT REVIEWS
(If you have a review of a show you've been to that you want to share, let me know)
Avon Park, FL - 12/21/02 - by Jo
My second Ronnie Milsap Christmas show was absolutely terrific. With the hectic year we've had here, it has been hard for me to get myself into the holiday mode of thinking. It doesn't help living in an area that doesn't go white for the occasion and people wear shorts year round (no, I am NOT considering moving north! J). Going to a show with the stage dressed up in festive attire, and Ronnie singing Christmas songs with an exceptionally up-beat band and crew really helped me along with my transition to holiday thinking.
This show was re-scheduled from a week earlier and it worked perfectly. They re-scheduled for a Saturday, which works much better with my work schedule. I was able to take a leisurely drive South without worrying about all the stuff I was supposed to be doing at work and just enjoy my day. I got there about 3:30 and watched the show take form as the afternoon went on. As always, it was great to talk with everyone, and while extremely tired from the strange hours required to make it from Biloxi, MS to Avon Park, FL – everyone was in an exceptionally great mood. There was joking and banter back and forth while everyone worked together to make the show happen. I wondered there for a minute if Marty and Kirby were trying out for the new Ronnie Milsap backup singing duo – but they both quickly assured me there was absolutely no way! Those two are a riot. Todd and Marty both mentioned an exciting Texas date coming in March. While not on the schedule yet, it sounds like something that will most likely happen. Ronnie is slated to appear with none other than Ray Charles in Houston. Todd said Ronnie is really excited about it. So all of you Texas (and nearby) fans make plans now for when the date is announced!!
Ronnie came out for sound check in a great mood, and was cracking jokes one right after the other. It was definitely a sign of things to come!! On his way out to change for the show I was able to say a quick hello. I chatted with Rhonda for a little while before she had to change. Her show is ready to roll for January and she is very excited. It sounds like an excellent show if anyone is nearby Altus, OK.
The venue was small and fully packed. The front seats were mere feet from Ronnie, so I'm sure he was able to hear me loud and clear on the few songs I just can't behave on. (I try to be good though) He mentioned his website in the show along with his Cyber Fans. The show itself was incredible. He sounded awesome, looked awesome and it ended way too soon. Brian wasn't traveling with him this time, so there was no opening act. The joking was even more turned up than usual, and there were a few times that the band had trouble singing along because Ronnie had them laughing so much.
Jamie was trying to convince Ronnie that the Christmas decorations onstage included some live reindeer – that was fun. He also made much of the fact that they had just left Biloxi when they were discussing Jamie's "responsibilities" of band leader, and debts he had to pay off the night before. Then Marty came on with Ronnie's red keyboard guitar and said it was green in honor of the show. Ronnie gave us a sample of what he said today's country sounded like (lots of noise and heavy breathing/panting). That had even the older members of the audiences starting to laugh a little. Ronnie had actually toned down the noise level of his normal show in respect for the fact that the majority of the audience was in the retirement age group and didn't care for "loud." However, Ronnie's ability to connect with the audience and draw everyone into the show was in full force. Even the pre-show grumblers behind me were laughing and clapping by the time he was done for the evening. They weren't as excited as I was about "All is Fair," but I loved every minute of that song and Ronnie heard me I'm sure (can't help it). Ronnie also got a standing ovation when he performed "America" to close out the show. When the flag came down, even the hard-core, stay in their seat types were on their feet. It was incredible.
The show was a great mix of both his normal songs and several selections from his Christmas album. They even substituted "White Christmas" in their acapella set for the third song. Ronnie's microphone was not cooperating with him when they started that set. It kept falling down to small person level until he wondered if he should just sit on the floor to sing. The audience was in stitches. What a great sense of humor!
After the show I went back to say goodbye to everyone and wish them a safe trip and a Merry Christmas. I got to talk to Ronnie for a bit while everyone was packing up. That was really special, very informal, and it was an incredible end to an incredible evening. The venue requested no flash photography, so we'll see how my pictures turn out. I was close and they looked good in the viewfinder so we'll see how it goes when I get them developed.
He also mentioned the two albums he is working on. It sounds like one may be another "Hits" type of thing with two new tracks and then a jazz album. He said early next year for release dates...
Song List
Don't You Know How Much I Love You
Any Day Now
*What A Difference You've Made in My Life (start Medley)
Wouldn't Have Missed It For The World
Almost Like A Song
Stand By My Woman Man
Pure Love
No Getting Over Me
*What A Difference You've Made in My Life (end Medley)
I'll Be Home For Christmas
Rocking Around the Christmas Tree (Rhonda)
Christmas Medley
Emmanuel, Silent Night, Joy to the World
Lost In The Fifties
Doo-Wops
Snap Your Fingers
All Is Fair In Love And War
O Holy Night
Smokey Mountain Rain
Stranger In My House (with "What A Band" thrown in)
America

Watertown, SD - 8/18/02 - By Julie
(below, Julie shares a special moment w Ronnie)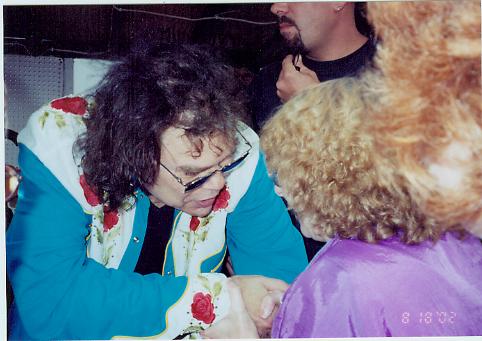 I finally got to see Ronnie Sunday night! He was wearing a beautiful turquoise shirt and he was in top form. He started with Prisoner Of The Highway, the Hits Medley, A Woman In Love, All Is Fair In Love And War, Street Song Medley. When he was talking to the audience he said 'We finally made it. I was driving the bus. That's how come it took so long to get here'. During Young Blood he was panting into the microphone! He also did No Getting Over Me, two Elvis songs (one with Elvis himself), Smokey Mountain Rain, America The Beautiful. I may be forgetting some, but I do know that he didn't do The Future Is Not What It Used To Be or My Babe. Rhonda didn't do her solo either. I think they had to cut the show short a bit because of Merle Haggard coming on next and Ronnie was signing autographs between his show and Merle's.
I was given a backstage pass before the show and went back there, but Ronnie was running behind and didn't have time to come out. I did get to talk to him for about a minute in the autograph line and since I had the backstage pass I got to go to the head of the line. Yes! Ronnie shook my hand and I held onto his hand while he was talking to me. He autographed the t-shirt I bought. It's the black one with the same picture as is on the Live CD cover. Some joker brought up a piece of cardboard and expected Ronnie to sign it. Todd said 'CD's and shirts only'.
I also met up with Deb from the forum and we got along very well and had a lot to talk about. I took some pictures and if they turn out I will send them to Jo to include on her site.
It was a fantastic show and a great experience and I Wouldn't Have Missed It For The World.

Hiawassee, GA - 7/6/02
The shows in Hiawassee, GA on July 6 were awesome. Steve and I left our girls with their uncle and took the weekend for just us. It was a long drive, but the scenery was great and it was a relaxing way to celebrate 17 years together. Going from sea level up into the mountains was beautiful. We pulled into Hiawassee about 3:00 and checked into the hotel. After that we went in search of the place where the concert was. It was a short walk from the hotel to the venue, and we found everyone in the back setting up. We spent time speaking with Rhonda, Adam, Rodney, Warren, Marty and Kerry. Rhonda had just received her proofs back of her photos that are going on her CD. Yogi did her hair and Make-up and Allyson did the photo shoot. They turned out great! The CD seems to be getting closer and closer.
We met Barbara when we were headed back to the hotel to shower and change and when we came back to the show she had found Kim and Troy. We chatted for a while and then it was show time! Aaron Tippin took the stage first, and I have to say that his show wasn't bad at all. I hadn't seen him before, and I will definitely go to another of his shows if he is in the area. Ronnie took the stage about 7:45 pm or so, and he was ready to go! For the first show he was wearing his Turquoise and White shirt with the roses. It was fairly warm and humid in there, but he didn't let it bother him one bit. He opened with "Prisoner of the Highway" and just kept churning them out. Since it was a double artist show, they were only allowed 50 minutes to do the show. Ronnie did his best to squeeze in everything he possibly could.
He did: Woman In Love, his hits medley, Lost in the Fifties, the Do-Wop set, All is Fair, Since My Baby Left Me and then Elvis came out to sing All Shook up with Ronnie. Elvis needs a big can of Mousse and a hair net! That hair of his is definitely something else! Then we continued on with Smokey Mountain Rain, Stranger in My House (which included We're An American Band), and the Piano Man Medley closed that show. For his second show he was wearing his dark blue shirt with the yellow yoke and flowers. It was pretty much the same except he did Any Day Now, Rhonda sang Walking After Midnight and he didn't do the Piano medley. He closed that show with America the Beautiful to a standing ovation. I'm ready for the next one!

Gibson Bluegrass Cafe -6/7/02 - By Ethel
We pulled into the parking lot at Gibson's at 6 am. Still a bit sleepy from getting up at 3:30, but the excitement was mounting. The parking lot was already pretty full..which made me wonder if the place would hold all of us. I had never been inside, and was surprised to see it's a very big place with lots of tables, chairs and booths. I told the man at the door who I was and he said "Oh Ethel, a friend was looking for you just now..he's inside somewhere". I knew it had to be Jerry. so I went in scanning the crowd for someone I had only seen pictures of. I had described him to my husband and he actually spotted him first. He said "I bet that's him over there in the green shirt". We walked over and I guess Jerry was looking for us because when we got close enough he said "Ethel?". We sat down with Jerry for a few minutes, then decided we'd get our breakfast and eat before time for the show. So we got in the breakfast line and went to a booth to eat. So happens Warren and I guessed his family were sitting in the booth near us. I didn't bother them because they were eating. Rhonda came by..I said "Rhonda!" and she stopped and we talked for awhile. Said she wanted to come back to chat sometime..but they have been so busy. She asked if the chat days were still Tues. and Sat. and said she'd try really hard to get in there. Jerry came and asked us to come back to their table to watch the show. His parents were with him, so we went and really had a good time with all of them. Ronnie came out wearing a beautiful purple and silver western shirt and jeans. I didn't write anything down, but I'll try to remember all the songs..if I leave something out maybe Jerry will fill in. He started with Prisoner Of The Highway, Woman In Love, Lost In The Fifties, Hits Medley, Stranger In My House, My Babe, Happy Happy Birthday Baby. He surprised both Jerry and me by doing Stranger Things Have Happened. He probably did that back when it was new , but I know it hasn't been a regular part of the show. Rhonda did Walking After Midnight. She has a beautiful voice. I know when she releases her CD she'll give all the female singers a run for their money. Ronnie introduced her as his future favorite female singer.. Ronnie did a lot of talking during the show, and stayed on stage most of the time..even when the station was doing other things on the air. It was a very casual setting and the stage was low and it seemed lime we could just reach out and touch Ronnie. I made a lot of pictures from my seat..but did get right at the stage and made some too. Fingers crossed on them turning out. I've had bad luck with cameras lately. Ronnie closed with Honky Tonk Women, and got at least 2 standing ovations. As usual the crowd loved him. And the DJ seemed in awe of him. He is really a favorite of all of them. I wanted to be able to congratulate Ronnie in person on the Pioneer Award...but they said he was due in the studio at 10 and it was almost 9:30 when the show ended. We went around to the back of the stage anyway and stood at the door..but were told that Ronnie had already left. We said goodbye to Jerry and his family and headed home. Ronnie sounded and looked fantastic. And to those of you who wondered if he could hit those high notes that early in the morning...well, he sure did. The DJ asked him if he stayed up all night doing voice exercises. He was THAT good! Oh, by the way, the lady who played piano on the CD on My Babe was there and played the piano on My Babe and Stranger In My House while Ronnie played the electric piano. Sounded great. This has spoiled me. It had bee too long since I saw a Ronnie concert, I sure don't intend for it to be that long again!

Silver Springs, FL - 4/7/02 - by Jo
On Saturday, April 7, the Ronnie Milsap show came to Silver Springs, Florida. It was a gorgeous day for an outdoor show. This particular show was special to me for several reasons. The first is being the fact that several friends I have met online were present for the show. It is so incredible to meet friends in person that you have met online. It makes it so much more fun to watch a favorite performer with others that feel the same way. The second thing that helped to make this show very special was the fact that it was only 10 minutes from my house. Up to now I've driven several hours for each show I've seen. It was great to see Ronnie in a favorite concert spot of mine.
The day started for us at 8:30 am. My family and I picked up Maryann from her hotel and we went to the park to set up our lawn chairs. We found Todd and said hello and the day skyrocketed from there. A few minutes after we got there Barbara pulled in from her drive down from Tennessee. We collected her into our group and kept going. While we were sitting and chatting and getting to know each other, up came Denise. The group of us had a great time getting to know each other while watching the pre-show activity and getting ready for the show to start.
It is always great having a chance to talk with the band members. We talked a bit with Rhonda and I was happy to learn that she is closer to finishing her CD. We said hello to everyone else as well – Jamie, Warren, Rodney and Adam. Everyone seemed to be enjoying the great weather here in sunny Florida.
Brian opened for Ronnie with his usual great routine. He did a condensed version, but it was still good. We heard John Wayne, Richard Simmons impersonating John Wayne, Willie Nelson impersonating Whitney Houston and then Ronnie "crashed" the bus into the back area to let us know he had arrived and was ready to go. Ronnie took the stage at 3:15.
He was casually dressed in his trademark boots, jeans and a red and blue western shirt. He was in a great mood and ready to perform. We had awesome seats just off the stage and settled in to enjoy the show. He started us off with "Prisoner of the Highway" and kept us totally entertained for well over an hour before ending with the patriotic "America." Of course Elvis made an appearance as well. This is one of my youngest daughter's favorite parts of the show. She loves to watch "Elvis." Ronnie also sang "Snap Your Fingers," so she was pretty much in complete heaven. As always, Rhonda sounded terrific and Warren killed 'em with his deep bass in the do wop set.
The show was over way too soon as always, but left us with great memories. After the show, we were able to participate in a meet and greet. It was a day full of wonderful memories and couldn't have been more perfect. I am definitely looking forward to our next show. As always, Todd was terrific and made sure we all had a wonderful time.
Song List
Prisoner of the Highway
Woman in Love
Any Day Now
*What A Difference You've Made In My Life (start medley)
I Wouldn't Have Missed It For The World
Almost Like A Song
Stand By My Woman Man
Pure Love
There's No Getting Over Me
*What A Difference You've Made In My Life (end medley)
Walking After Midnight (Rhonda)
Lost in the Fifties
Do Wop Set
Love Me …
Little Bitty Pretty Woman
Young Blood
Snap Your Fingers
All Is Fair in Love and War
All Shook Up (duet with Elvis)
Button Off My Shirt
Smokey Mountain Rain
Stranger In My House
America