Return to Fan Photos page Next Back
On June 30, 2001 the first group of Milsap Cyber Fans met in Nashville, IN. Those attending were: Sheila (Kygirl), Dude, Kim, Jerry, Linda, Stacey and Davey from the forum. Sheila's husband and Linda's husband were also there. From all accounts given, much fun was had by all and they are ready to do it again. Sheila, Dude, Kim and Linda stayed for both shows.
The whole group was able to meet with Ronnie between shows. They each got their picture taken with Ronnie, and they presented him with a plaque that several Cyber Fans from the fan forum had contributed towards. It had engraved text and also braille.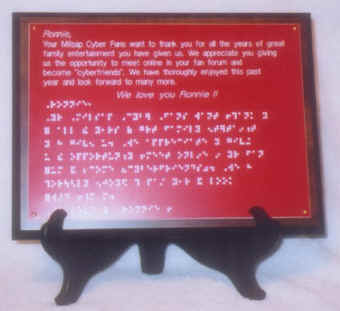 Text on the plaque was as follows:
Ronnie,
Your Milsap Cyber Fans want to thank you for all the years of great family entertainment you have given us. We appreciate you giving us the opportunity to meet online in your fan forum and become "Cyberfriends". We have thoroughly enjoyed this past year and look forward to many more.
We love you Ronnie!!
Here are a few shots from Indiana:
<!img border="0" src="lindaincopy.jpg" width="200" height="207" alt="Linda">

Top left: Sheila giving Ronnie the plaque from the Cyber Fans.

Top Middle: Dude, Linda, Kim and Sheila

Top Right: Enjoying the show

Bottom Left: Kim

If anyone else has photos from the day in IN they would like to share, please email me.